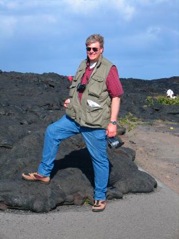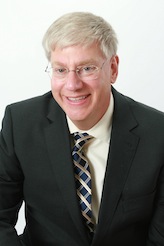 After college I moved to Massachusetts to work as a software engineer on a variety of projects including compiler development, optical inspection systems, two stints in dot-com era start-ups, and an eleven-year stint at
Verocel, Inc
., a company specializing in safety-critical software. I bounced around a bit more eventually retiring in 2021. Forty years was enough! I'm now enjoying life at a more leisurely pace.
I follow baseball, read a great deal, write a bit, and follow politics, current events, and technology trends.
Here is Sandy with her great smile on the streets of San Francisco. It is hard to believe we've been together 40 years. Time does fly when you're having fun!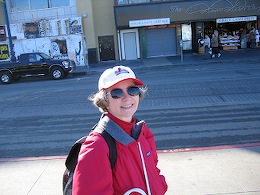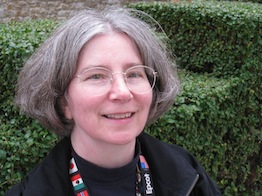 My ham radio story is a little more complicated. I was always a nerd, taking apart anything I could reach. I'm not sure how much I learned doing all that damage, but it formed the way I looked at the world: I want to understand the innards of things. I bumped into computers while in college and fell in love. My degree in computer science sent me to the Boston area, but there was no time for hobbies. I had never met a ham that talked to me about amateur radio until I hired Dave Bushong, KZ1O, in the 1990's. "You'd love it," he said. But I put him off.
It wasn't until the end of my software start-up days in 2000 did I even consider the idea. In 2002 I called Dave and asked, "What books do I need to do this?" He wanted to help; I wanted to read. After a summer of study I took all four tests in Gloucester, Massachusetts on a Sunday morning. The three written tests came first, then the Morse code test. All I could think was, "If I screw up the code test I walk out only a Technician!"
Needless to say, I didn't screw up the Morse code test, though it was closer than I would like to admit. Now I was an Amateur Extra on paper. That license was a license to learn, and I did my best to do just that.
I've tried to give something back to amateur radio since it has given me so much. I help do volunteer examinations, giving those same tests I agonized about in 2002, and have over 120 sessions to my credit. I've written some things that I hope people find helpful including a book on using the Buddipole antenna system called Buddipole in the Field. I give away the PDF, but the paperback copy has sold quite well.
The 100 Pound DXpedition was also a way for me to give back in addition to me having fun. I had a daily blog running through the first year or so. It has about 400 entries in it, and I've produced a PDF of the thing as an archive.
I've worked with my local clubs doing things that were not glamorous, but helped club members and the community in general. That work was first with the
PART club of Westford,
Massachusetts, and after my move to New Hampshire with the
Nashua Area Radio Society
. That club was awarded Club of the Year at the national Hamvention in 2019.
I'm not a very complicated person. I'm most happy when the people around me are happy, and I work to that goal every day.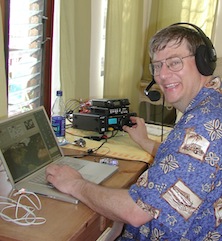 Scott, NE1RD, working the ARRL DX SSB contest
on the island of St. John in 2006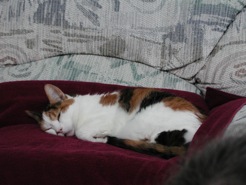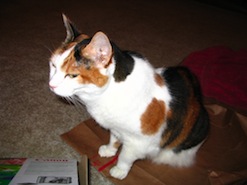 Here's little Neutrino, the last of the subatomic particle cats, in her favorite spot. Her sister Muon and big friend Pion graced us for many years with their charm, wit, and affection. With Neutrino now gone our home is a very quiet place. They are missed.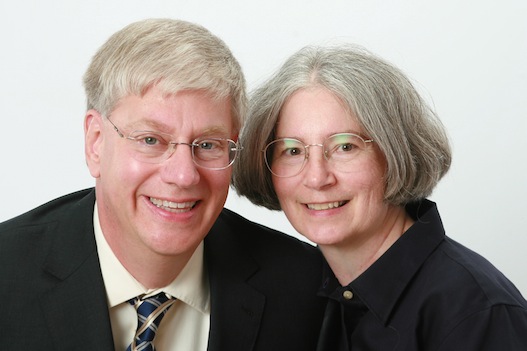 My public key appears below. I'll buy an ice cream cone for anyone who can memorize it.



-----BEGIN PGP PUBLIC KEY BLOCK-----
Version: GnuPG v1.4.7 (Darwin)

mQGiBDzLWB0RBADiRZYHzbghPvDd9RR49r0r21vMBc6SSRgE44lrqamtjuqNadzq
QvDHeZkJoqnIjArG02KoxPr79SicPGWgmz904AA+QuM7tTVVDWKYaiVWSWRPTc9q
A0VPwDJFFy8oNhoV2+K83+tDLHCgftLnaDIcjG9OHwcxvQBhg0fTsjjG5wCgg+RO
Ybp2qxkE9zhZH0W5N4m+5asD/RTD2E5EO1B9O6kOSXMgs1R9hMaQX0DVQjOj0H6a
UESMIqdHX3s+H2ru4Dh9DzUxA31qqNyo7yLKmZCjCHJ0FwjKpDwhqB82LPZyEFHV
QDgeR7L/1WNkbK1nPZA3hR13VwtS22e6l+k6VTDHwxTwIRK1f2/38+AT9x9jmLJD
WIJxBADDBG1s5BJV5j0YgCb8S5HpEJD24YIVjTz4lpyH6t4OV5s0ScsCgZw05HSA
daUFkZYN3F4ZnzIHrnacO2aDYCX03fJzQf+tNq6iifCYMNXH6UH+ptXtRO/UTw4e
aEZfD3BGEFMeQZ/mCNc67TeKmhlbmqyv6AmtYUP3Ob9l27XqybQmQi4gU2NvdHQg
QW5kZXJzZW4gPGJzYW5kZXJzZW5AbWFjLmNvbT6IVwQTEQIAFwUCPMtYHQULBwoD
BAMVAwIDFgIBAheAAAoJEDpy1RtttRmUWKwAniq6KCoMbhDFmgeCvsd20lDCH72k
AJ0Zq2wxbpdDrLkdbz6ENeOaWG4Zw4hGBBARAgAGBQJA7aUyAAoJEOjTH9dD/rTO
Bz4AoIF5SI9WPQPed4eiDJEXFmmZm9hjAJ9Lvvb5dpsvOCzgfsHrtWVSniOobbkC
DQQ8y1hFEAgAl0um4x81rMzZ/9Z3/U9yAmIJ++iMb3Wbu7nDnltNSHlZoxOdeUFC
3/eL8hkXe+7XSLTRsAGustWQev7fT+b9yHExvXvnWnz9y0li6M8ctbE04esv5u1a
EE7i0UbajwfsBO8Ei3ibhmjuPs4PWyUHBV62eq47ZzP5rJtroFCaPeAKG0xQBSKv
U6TRJDuPX1Tgn+xFKsWEahznB1HCKtvuxFEH9en4aOZMEeUiqfK15YgKk1X2D4lZ
04nLdNIFXBwKQrtE5x2lUBp7yjL0xk5M/fzAoMShe0w2xHjuq8dH1GPEULUjHjUp
jUwA51H2kCf3HBvYSzRwfaqPDqT7VlFGpwADBQf+Kg6geiP66mpF8jnY/BV5QHPE
oJbVhztQ/ALCklhaSPrjeTMzEqmhdb6qdei9gclQJ7ymM/TrNhprf8D4yxlSzjEI
R4jIij5klE9kdoBetRngZr4Hej6onDXGNkeAFcvNX5xlxZRDD/pHp4SXM03+Cvyo
M2PNzG9bpCjzyZa2w+SRVB+L6e0iR6HWtW8MMrFBFPP9qMnYU+c8R7ZOcDDBgbqd
QDUfLNw1Hchf7SALl5kI2+/BNnY43ntZc0lz2aioB6bXKIRTLuHJZ9w/DsiqVEtu
6sjQ8JsoEUSwo9x4UjbWGiUxdQupkrEfnHNx4kyCrch+2+9udt0Q9RmZxKq+H4hG
BBgRAgAGBQI8y1hFAAoJEDpy1RtttRmUj9sAnjdtFQpRXriRenKRncGTfhlLUz97
AJ9IS34aDuZzr2iut2jciCmQj1gqeA==
=mFIG
-----END PGP PUBLIC KEY BLOCK-----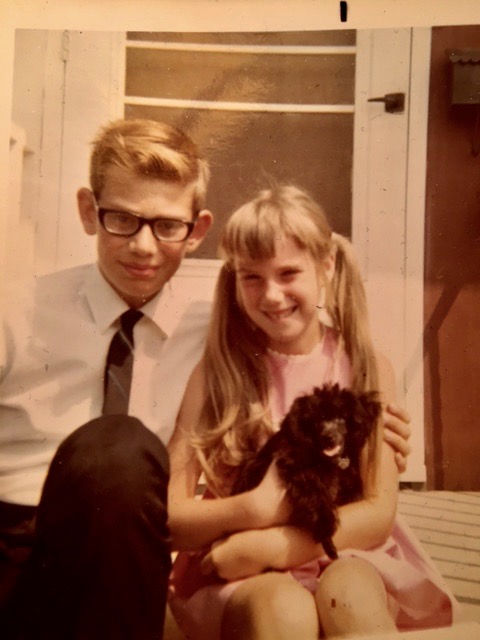 Me and my sister Susan ca. 1969. Yeah, those ears…