This page contains links to presentations, books, antenna models that I have developed, and articles I've written.

Buddipole in the Field

This is a presentation from 2015 discussing the Buddipole antenna system, and my book Buddipole in the Field.
Antenna Modeling I

This is a presentation I prepared for the Nashua Area Radio Society in 2018. The link is to a YouTube video of me practicing the presentation.
DXpedition in a Backpack

This is the presentation I did for the ARRL 100th anniversary National Convention in 2014.




White paper presented at Four Days In May
What Little I (think I) Know About Antennas
This presentation was made to
PART of Westford
in 2012 and discusses what I believe are antenna fundamentals, and also a little about how I think about antennas.
Restricted Environments

This presentation was given in November of 2017 to the Nashua Area Radio Society and it chronicled my attempts to both learn something about ham radio and antennas, while also trying to build up my log and earn some awards. The slide with the PL-259 that had been hit by lightening is worth a look.
Worked All States in a Month

This is a presentation I did for the PART of Westford radio club in November 2020. It describes what I went through to get WAS digital with FT-8 in 24 days.
The 100 Pound DXpedition ~ ARRL NE Regional Convention ~ 2006

This is a presentation that I gave at Boxboro in August of 2006. I'd not been at this very long, but was happy to share what I knew.
Buddipole Users on Montserrat ~ 2007 [Part 1]

Seven amateur radio operators W3FF, W6HFP, WZ1P, NE1RD, KC4VG, KB9AVO, AB7ST, W4OKW traveled to Montserrat for a lightweight DXpedition using Buddipoles and wires.

This is part 1 of 2 of the DXpedition video.
Buddipole in the Field is a complete guide to the
Buddipole
, Inc. antenna systems including the Buddipole, Buddipole Deluxe, Buddistick, and Yagi configuration from Buddipole components.
The book covers deployment options from balconies and rooftops, ground mounted, on the beach, and other portable situations. It has 11 chapters, 5 appendices, and over 150 pages of great stuff. Best of all: the book is released under a
Creative Commons
license and is downloadable as a PDF for free.

You can find the PDF version of the book on the Buddipole Documentation webpage, or you can purchase a paperback copy of the book for $15 from the Buddipole Accessories page.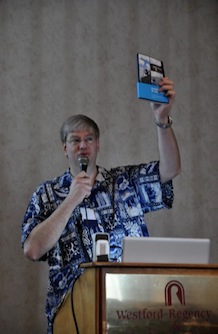 Me, NE1RD, showing off the first copies of Buddipole in the Field at the Massachusetts QRP Convention in Westford, Massachusetts (2010)
100 Pound DXpedition blog
Though I have suspended activity on my blog, there is still a lot of good stuff in there about things I did well, and not so well. It isn't cheating to learn from my mistakes! Click the logo to download a complete version of the blog in book form. The original blog is
100pounddxpedition.blogspot.com
Antennas for 100 Pound DXpeditions
Volume 1: Selected high band antennas [20-6m]
There are unique problems associated with my very lightweight DXpeditions. Selecting a compliment of antennas that will fit within the 100 pound weight budget is challenging, for example, and tradeoffs between performance, size, weight, and other factors must be considered carefully. I have begun collecting some of my notes and thinking on this matter in a series of white papers that explore these tradeoffs. The first volume, Antennas for 100 Pound DXpeditions: Computer-based antenna modeling and direct experience with lightweight portable antenna systems. Volume 1: Selected high band antennas [20-6m] can be obtained by clicking the document icon to the right.